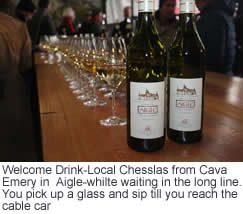 This article from Subhash Arora, wine judge at the CMB 2019, was published on the Indian Wine Academy website the 17th of may 2019.

Results for CMB 2019 were announced on Monday with Swiss bagging 177 medals and getting 5th position in terms of medals; 30 out of the total of 177 were Chasselas. It might have been no surprise that the Revelation White Wine from Swiss in the Competition was JDC Chasselas Grand Cru 2018 from Cave Jean-Daniel Coeytaux, a family winery in Yens in the Morges District in the Canton of Vaud where Chasselas is the king white grape.
Chasselas is the symbol of Swiss white wine although it is also one of the most widely planted white grape varieties in the world. There are several myths about its birthplace, but in 2009 it was established that its origin is the canton of Vaud around Lake Geneva where one may discover its beauty on the steep slopes facing the water.
'Chasselas is nothing and in this power-dominated wine world, nothing is good', proclaims Japanese wine writer Katsuyuki Tanaka when he inaugurated a Wine and Dine event in Tokyo created especially to showcase this fascinating and often underrated variety. He couldn't have got to the essence of the Swiss national grape in fewer words!
Chasselas is a global phenomenon-not only because it is one of the most planted white grape varieties. Approximately 38,000 ha (93,900 acres) are planted across the world-mainly in Romania (13,000 ha), Hungary (10,000ha), Switzerland (4,013 ha), France (2,620 ha), Germany (1,129ha) and Russia (540ha).
It may also be produced as an eating grape variety. Many regions use it as a table grape or to make fruit juice from it. But the Swiss have been cultivating it for centuries to make a crisp, fresh white wine 96-98% of which is consumed within the domestic market. Chasselas is known to adapt very quickly to different climatic conditions and soils. This is because it often lacks an expressive aroma or flavour of its own; for those unfamiliar with its charms, its profile is non-aromatic, or neutral.
The well known Swiss writer Chandra Kurt has written a book Chasselas-From Féchy to Dézaley around this grape variety and admits to falling in love with the grapes after more than 20 years of travelling and tasting Chasselas wines all over the world. A good Chasselas is dry, delicate, and very refreshing, with a lot of minerality and a slight floral expression. It is the perfect wine to drink when thirsty or when you want to give your tired palate a break. It is a light bodied, low in alcohol (typically around 11.5-12.5%). It may be enjoyed as an apéritif or all the way to the cheeses, with all types of dishes, including vegetarian cuisine. It is a natural accompaniment for Fondue in Vaud or Raclette-popular in Valais.
Same grape, many names
Chasselas has been known under a bewildering number of synonyms (248!). Swiss ampelographer Dr José Vouillamoz of the University of Neuchatel, who was one of the co- authors of Wine Grapes with Jancis Robinson MW claims it was first mentioned in 1539.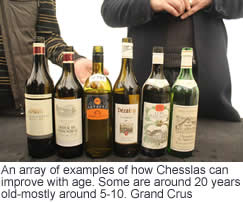 Fendant was widely used from the 18th century in the canton of Vaud, both for the variety and the wine produced. The berries of Chasselas split instead of bursting when pressed between the fingers. At the beginning of the 20th century producers started using the name Chasselas and naming the wines, as in Burgundy, after their village of origin, such as St. Epesses, Aigle, Féchy or Dézaley. The name Fendant is still very popular but only in the neighbouring canton of Valais. The grape was introduced there around 1850 and became so popular that the locals adopted the name as their own.
Nearly 15,000ha of vines are cultivated in total, barely 0.2 percent of the area under vine globally. Switzerland is divided into six official wine regions- Valais, Vaud, German-speaking Switzerland, Geneva, Ticino, and the region of the Three Lakes which includes Neuchatel. All the 6 regions grow Pinot Noir but Chasselas is grown mainly in 5 regions, excepting Ticino. It is number one grape, with over 4000 ha under cultivation. Therefore, it is not surprising that 30 Chasselas samples got medals and the Revelation White Wine of the Competition was a Chasselas.
Chasselas from Vaud
Vaud comprises of the following six wine areas: La Côte, Lavaux, Chablais, Côtes de l'Orbe, Vully and Bonvillars. Most wines are not labelled as Chasselas but with the name of the village-eg., the Domaine or the vineyard from which they come (as in Burgundy) — St-Saphorin, Yvorne, Aigle, Féchy, Dézaley, or Epesses, for example. The best wines come from steep and terraced Lavaux vineyards next to Lake Geneva. To appreciate or discover the often hidden beauty of Chasselas, a visit to Lavaux is a must for connoisseurs and novices alike. The panorama is simply breathtaking. It had been on my bucket list since 2007 when it was recognised as a UNESCO World Heritage Site in 2007. A boat ride along the coast was well worth the visit, albeit from a distance, during the Concours Mondial de Bruxelles.
In Chasselas they have thus a heritage that is a symbol not only of Switzerland's uniqueness but also of a style of wine that returns to delicacy, finesse, and subtle aromatic expression.
Theme and variations
A special style of Chasselas available locally that we tasted at Chateau d'Auvernier during our visit to Neuchatel is categorised as non-filtré (unfiltered). Launched with residual yeast, in January following the harvest (by law) as the first wine of the new vintage, it has sediment in the young wine that will settle at the bottom of the bottle, but for the first six months shaking the bottle before opening enhances the freshness of this distinctive local product.
Geneva also produces interesting Chasselas in Satigny, Peissy, and Dardagny, while under the name Gutedel some wines are also produced in German-speaking Switzerland. Malolactic fermentation is not necessary for Chasselas. The grape has naturally high acidity which is the key word for Chasselas.
High-quality Chasselas has just the right amount of acidity though. Switzerland is a country of precision and always looking to produce high quality; Chasselas is one such example making it unique to Swiss culture.
Widely grown but little known.
A high-yielding, early ripening variety, Chasselas is well-suited to marginal climates where long-cycle varieties are at risk of frost. To get a perspective, there is more Chasselas under surface than Zinfandel (32,700 ha) or Grüner Veltliner 18,800 ha. Yet Chasselas is practically unknown to consumers outside its native Switzerland. This makes flooding of Chasselas practically impossible.
Chasselas is a non aromatic variety with low alcohol (11% to 13% ABV)—and has a reputation for yielding rather neutral grapes so it rarely makes it in the international wine lists. Of course, the fact that Swiss do not focus on exports is also a reason for their not finding their rightful place. In Switzerland, however, Chasselas is the champion white variety, making up 28 percent of the nation's wine production.
A Swiss Paradox
The grape does not have its own strong personality but takes it from the soil. You really taste in your glass the origin of the soil. Switzerland has a wide variety of soils, ranging from chalk, clay, sand, gravel and schist, and while the country is known for its cool, continental climate, there's also a wide range of microclimates affected by lakes, Alpine mountains and high altitudes.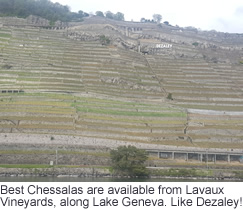 It's perhaps the most difficult wine for them to make because Chasselas can't tolerate reduction or oxidation; it doesn't like barrels, and one must be really careful with the yeast because the wine is so neutral." The grape has found an excellent breeding ground with thousands of single-vineyard Chasselas wines on the market, ranging from basic to Grand Cru wines.
Located in the heart of the Chablais, in the foothills of the Vaud Alps, the vineyards of Aigle cover 135 hectares. Eighteen winegrowers produce Aigle Chablais AOC wine.
"Chasselas Forever" – a film shown to a set of jury members at Hotel Alpine Classic in Leysin on May 2, is the first documentary dedicated to a grape variety rooted in the Lake Geneva region. The camera comes so close to the grape, showing the evolution from seed to grand cru, from the infinitely small to universal distribution, the documentary recounted the history of Chasselas as one had never seen before and in fact renewed my interest in the grape.
While Chasselas is still off the radar for most drinkers outside Switzerland, this unique Swiss variety is beginning to appeal to some connoisseurs looking for something different. As many of them get fed up with excess of oak and extraction which was popular till recently, Chasselas with its freshness subtle elegance, freshness, minerality and easy drinkability might well be the answer, even for consumers in India, though the higher costs would preclude even many discerning drinkers ordering it due to budget constraints.
Category: Le Chasselas aujourd'hui